2022 Field School Cancelled
The 2022 Participatory Modeling Field School in Detroit, Michigan, features four days of hands-on workshops, keynote addresses by leaders in the participatory modeling field, and opportunities to learn about and model problems of concern to urban communities like Detroit. Come to the Field School to learn the key design elements of a successful PM project, and how to use various PM techniques to represent complex problems, and gain insight into the actions that can be taken to address them.
Participatory modeling engages community stakeholders in the process of modeling complex systems, integrates scientific and local knowledge, and produces models useful for stakeholder decision making and action.
Who Should Attend?
Faculty and students interested in learning about participatory modeling and engagement techniques, systems thinking, and how they can be used to address complex problems
Community members interested in learning how to more effectively address complex community problems using systems thinking and participatory modeling
Understanding the Flint Water Crisis Using Participatory Modeling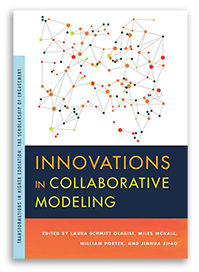 NEW!

Published June 2020

A book in the series: Transformations in Higher Education: The Scholarship of Engagement

Edited by Laura Schmitt-Olabisi, Miles McNall, William Porter and Jinhua Zhao
Published by: Michigan State University Press